Teton County Balloon Company Sued Over August Crash That Injured 12 | Crime-and-courts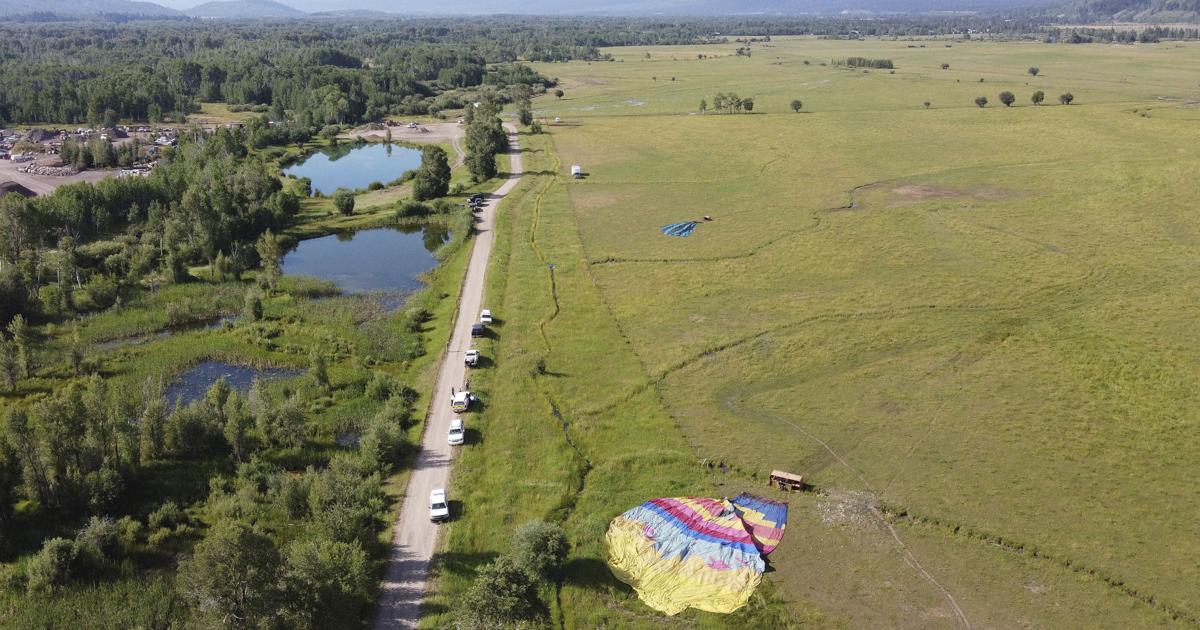 A Teton County hot air balloon company is being sued by a passenger in an August crash that injured 12 passengers and sent 11 to hospital.
On August 3, three hot air balloons operated by the Wyoming Balloon Company crashed in Teton County, ejecting a pilot and passengers after an unexpected gust of wind occurred during their flight.
Now Linda Columbus, one of the passengers injured that day, is suing the company for $75,000 in federal district court. The company wants to take the case to a jury.
According to Columbus' court filing, she was ejected from the balloon when it made a crash landing after its pilot fell. Her leg was caught in a rope tied to the balloon, which dragged her several hundred feet before the balloon rose about 10 feet off the ground and she managed to untangle herself and fall to the ground .
Court documents say his ear was torn from his scalp and had to be amputated. She also suffered broken collar bones and bones around her eyes, in addition to a concussion, a badly injured left hand and multiple other scratches and deep cuts.
The Columbus legal team says these injuries are the direct result of the Wyoming Balloon Company's negligence. In their response to the lawsuit, lawyers for the company say passengers take full responsibility when they sign a release and acceptance of risk agreement before boarding.
The lawsuit claims the weather that morning was windy and dark clouds could be seen to the west. The original complaint in the case also says passengers were given few safety instructions other than "don't fall" before taking off. The company's response denies this claim.
"Usually the only instructions we need are to listen to the pilot and not get out early," Wyoming Balloon Company owner Andrew Breffeilh said Friday. "Most of the time the conditions are so calm that takeoff and landing are imperceptible."
Breffeilh said he thought all signs pointed to a smooth flight the morning of the crash. The company regularly cancels flights due to less than ideal conditions, he said – in the summer, up to one in three flights can be canceled due to wind or bad weather.
The most likely explanation for what happened that day, he said, would be an unseen gust of wind that came when the balloons were already in flight. Winds rose from zero to around 25 miles per hour in 10 minutes, Breffeilh said. According to the complaint, the balloon Columbus was in began to descend after about half an hour in the air.
In 32 years at the helm of the company, Breffeilh said he had never had a single accident or injury. No lawsuits either – and so far this is the only one to emerge from the August crash.
"If a pilot is not comfortable with the conditions, nobody flies," Breffeilh said. "So we are scratching our heads how it happened. I feel bad, because one misstep out of thousands is still too many.
Breffeilh and another pilot, Richard Glas, flew two of the three balloons that day. The third, which held Columbus and his partner, was piloted by Richard Lawhorn. Breffeilh said there are more than 120 years of flying experience among his pilots, and Lawhorn is retired from a career as an airline pilot.
The company took a week off after the crash to deal with the aftermath, but Breffeilh said business has been business as usual since then.
On Friday, neither Columbus nor Wyoming Balloon Company legal teams responded to requests for comment.