Supply chain issues are slowing senior housing development as demand surges, say InterFace panelists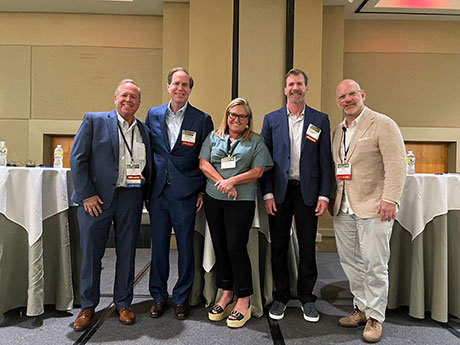 ATLANTA — Delays in the arrival of building materials — from windows and roof trusses to microchips for electrical panels — are one of the biggest hurdles slowing new senior housing developments, according to Kristin Kutac Ward , CEO of Solvere Living.
Ward's comments came at the ninth annual InterFace Seniors Housing Conference. The event, which took place on August 17 at the Westin Buckhead in Atlanta, was organized by France Media's InterFace conference group and Housing company for the elderly and attracted 324 attendees.
Tod Petty, Vice President of Lloyd Jones Senior Living, joined Ward on the development panel; Matthew Griffin, senior vice president, Eastern States, at Griffin Living; and Jim Vogel, president of Solvida Development Group. Rick Shamberg, managing director of Scarp Ridge Capital, served as moderator.
Despite the challenges of today's construction environment, there's pent-up demand and a lot of excitement about new senior housing projects, Ward said. As baby boomers age, about 50 million more people in the United States will need elder care, according to Shamberg.
Developers have ample opportunity to fill this void in housing. According to Petty, the need for senior housing will be more pronounced in 2030.
There is a large market of baby boomers who won't be able to afford the high prices that often come with retirement homes. But on the other hand, there are high-end seniors who will pay more to receive better services and amenities, Petty explained.
With today's high construction costs, rents are on the rise. But additional services must be offered to justify rate increases, Petty argued.
"There has to be a deliverable for the price increase," he said. "We can't just raise rents and call it a day."
Adaptive reuse projects, while still expensive, are an alternative to development from scratch. Vogel's is converting a 160-room hotel in Lexington, Kentucky, into 135 assisted living and memory care units.
"As a developer, our challenge is to change those equations that have construction cost limits and labor constraints," Vogel said. "We are able to take an existing asset and create an A+ product. We have reverse engineered our model in a price that brings us about $500-$1000 less than market rents.
Developers bring modern solutions to COVID-related challenges
Vogel said his company is trying to change labor constraints by using robots that help with food services or transporting items such as linens or garbage. Solvida is also focusing on certain technologies that use artificial intelligence to help predict problems for senior housing residents, such as falls or urinary tract infections.
"There are all kinds of technologies coming out, especially in the area of ​​memory care," Griffin said. "Our challenge is to make sure the technology is sustainable."
Developers have also recognized the importance of outdoor space, especially after the COVID-19 pandemic. Ward cited the example of a small senior housing project in Chattanooga, Tennessee, that has outdoor space equivalent to the size of a continuing care retirement community. "More balconies, outdoor spaces, outdoor access, fountains and connection to nature is the biggest change I've seen," Ward said.
Another COVID-related change relates to air purification systems in communities. "It's a huge selling point," Ward said. "That's one of the reasons we can command higher prices in California properties; their air purification systems are equivalent to those of a hospital. This is important for a savvy buyer.
For Griffin, one of the key COVID-related changes is larger units that feel more independent. Additions such as stovetops, in-unit washers and dryers, and balconies provide residents with more freedom and flexibility if they need to self-isolate during COVID outbreaks.
One of Griffin Living's communities even has a lazy river. "Residents may not be using it, but it's there for them if they want to use it," Griffin said. "It's a big difference; not that they have to use it or that they will use it, but that they can use it.
Ultimately, the number of high-end amenities or features a property receives depends on the market and the owner, Ward pointed out. "There are ways to get what people want now at different prices in different markets," she said. "We just need to understand the owner's objectives, the market positioning and the building's place in the market. »
—Kristin Hiller