Longtime Joplin Construction Company Launches Housing Project | Local News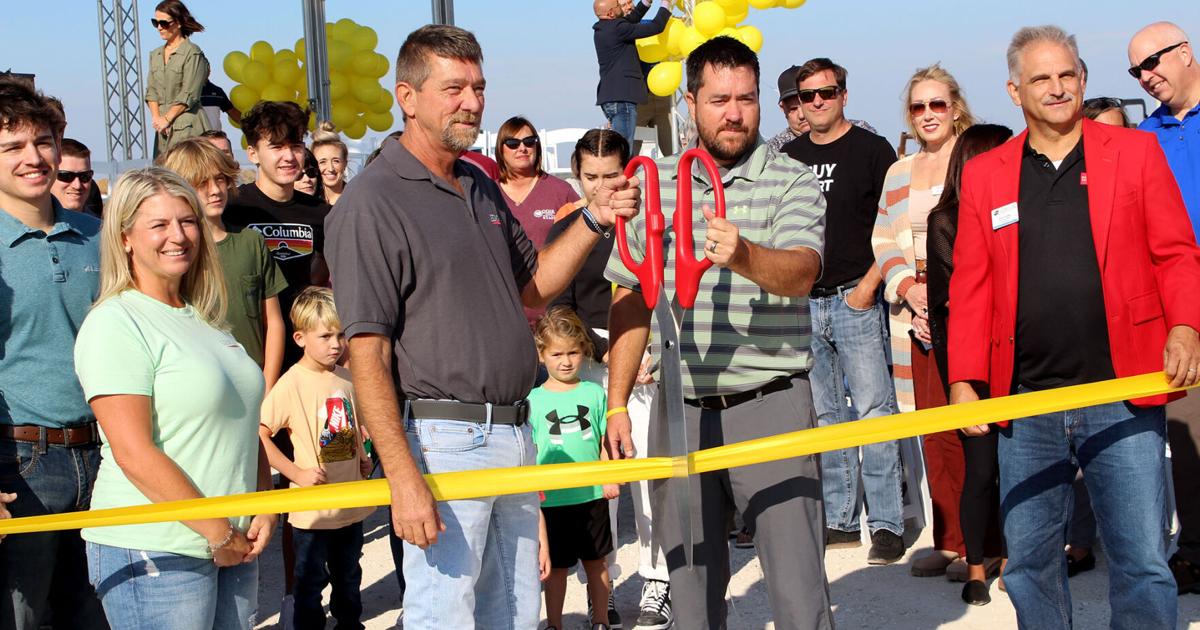 With a slice of red ribbon and the release of many yellow balloons, the ground was broken Friday morning on the new Joplin housing development, which will be located on the western outskirts of town.
Called Eagles Edge, the development will eventually have more than 150 homes. It is located in the Wildwood Ranch area, just off Central City Road, and it will be one of Ledford Construction and Development's largest construction projects.
"We're just really excited about what the future holds and what we can do with this community," said Lance Ledford, co-owner of the third-generation business with his brother James. "We love being here in Joplin, and we wouldn't want any place other than Joplin to be called our home, and that's what we want for others we're building (homes) for."
Their goal for Eagles Edge, he said, is to "bring homes to people who live here or move here…to give them a piece of home to start their next chapter in life."
Pushing west, said Ryan Flanagan of the Joplin-based Flanagan Group, has always had "meaningful significance" throughout America's history. Eagles Edge, he said during the Friday morning ceremony, "establishes the (new) far western boundary of our community. Today we celebrate hope for our community and the lives that will be improved.
"We named it Eagles Edge for a reason," Ledford, a Joplin Eagles fan, added with a smile. "People who live here will go to Carl Junction (schools), so I guess in the back of their minds they'll always know there's a Joplin (Eagles) community."
Construction will soon begin on the first eight Eagles Edge homes, valued at more than $1.5 million, according to city building permits. The homes will be 1,400 or 1,800 square feet — "depending on demand," Ledford said — and will be priced between $200,000 and $300,000 each. The overall construction will take two years and the subdivision will consist of four streets.
While the yellow balloons launched equaled the number of houses to be built at Eagles Edge, they took on a much deeper emotional meaning for the Ledford family. In 2014, Ledford and his wife, Jacqueline, lost their 6-month-old daughter, Nellie Mae, to a sudden illness after being airlifted to Mercy Hospital in Springfield.
In her memory, the first street in the development will be called Nellie Mae Street. Shane Munn, senior pastor of One Church Joplin, presented the couple with the green Nellie Mae road sign on Friday.
"We want her to be remembered," Munn told the couple. "As soon as someone gets here, (the sign) will be the very first thing they see."
"It was my first instinct to name the first street after him," Ledford said, "and James didn't even bat an eyelid – he clearly agreed."
James Ledford said they bought the land several years ago, creating momentum for the huge construction, when COVID-19 hit, followed by several family tragedies. "We lost our father, we lost our sister, I had a stroke; this is a two-year project," he said.
The father, Frank Ledford, built 300 homes in the Joplin metro area during his lifetime, averaging about a dozen homes a year. The brothers' grandfather, George Ledford, founded the company 46 years ago.
The road sign, the release of yellow balloons, the ceremony – James Ledford called it "humiliating", while Lance Ledford said he felt "a bit overwhelmed" by it all.
"We love Joplin and we love the whole community," said Lance Ledford. "We are just happy to offer this opportunity" to future Joplin families.