Hot air balloon company suspends operations, 'deeply upset' by accident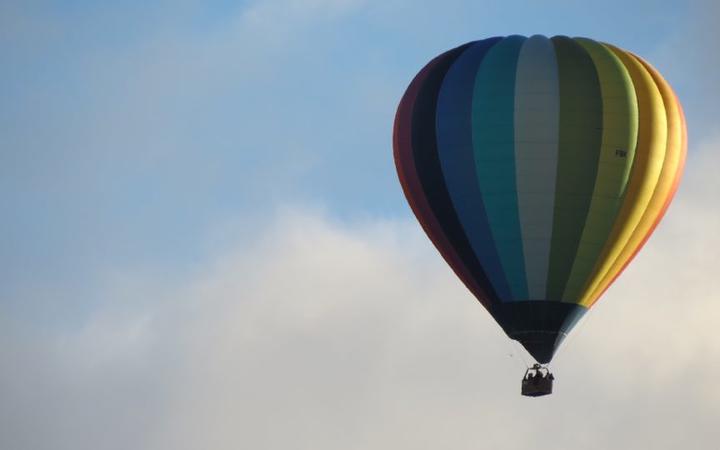 The company that operates the balloon which crashed near Arrowtown this morning says it is "deeply upset" by the incident and has temporarily suspended business operations.
Eleven people were injured after a hot air balloon crashed while landing near Arrowtown around 9.55am.
Two people were seriously injured and taken to hospital in Dunedin by helicopter. The Southern District Health Board said they were in serious but stable condition.
Local company Sunrise Balloons, which operates the balloon, issued a statement this afternoon saying the 10 passengers were a mix of individuals and groups, and all resided in New Zealand.
Pilot Carrick McLellan – son of owner Hugh McLellan – was treated at nearby Lakes District Hospital for moderate injuries and eight passengers were assessed in hospital for a series of minor injuries before being released, the company said.
"The approximately hour-long flight was uneventful, operating within its normal wind parameters, as it arrived to land at a landing pad on a private airstrip at Morven Ferry Road," said the company said in a statement.
"On approach, the balloon was caught by a sudden gust of wind and the gondola containing the passengers was impacted by a slight inclination."
The company said the ball basket "came to rest alongside a fence and trees near a property driveway."
"Immediately after the incident, balloon fabric draped over a subsidiary power line in the house."
The company said it had operated in the area for 23 years without incident. It had temporarily suspended its business operations and was fully cooperating with the police, civil aviation and the Transportation Accident Investigation Commission.
Owner and chief pilot Hugh McLellan said the company was "deeply upset" by the incident and the injuries suffered by its staff and guests.
"We fully support our staff and guests during this difficult time, and wish everyone a full and speedy recovery.
"An internal investigation is ongoing and we are working closely with all relevant authorities."
Ball bounced 100m before landing – farmer
The ball came to rest on Phillip Bunn's pitch. Bunn said Checkpoint it appeared a gust of wind blew the ball away, bouncing it around a bullpen for 100 yards before it went through a fence and ended up sideways against a tree and draped over power lines just in front of his House.
Two of her sisters were at home at the time – one witnessed it and the other heard screaming.
People were conscious, but some had broken arms and legs, Bunn said. Help arrived on the scene very quickly.
Bunn said he knew the pilot quite well and was able to walk after the accident. He understood that the two seriously injured people had been ejected from the balloon as it tried to land.
Bunn said he was just guessing "but he had to hit the ground and then he bounced, the ball, he had to catch it in a corner because the ball spun when he hit, got me they say."
TAIC and Civil Aviation Authority launch investigations
The Civil Aviation Authority (CAA) has launched a health and safety investigation into the accident.
Deputy chief executive David Harrison said the authority's investigation was separate from that being carried out by the Transport Accident Investigation Commission (TAIC).
"Our CAA teams will review work-related practices to ensure that all approved and appropriate procedures and processes were in place and followed by the operator and its employees," Harrison said.
"We will be working closely with TAIC and first responders as well as any witnesses who may have seen the crash."
A lead CAA investigator has been assigned to the case and is already liaising with TAIC, the CAA said in a statement.
"The separate survey provides an additional layer of critical assessment to ensure that safe practices were in place or to identify areas that may need further attention in an effort to give people confidence that they are safe when traveling by air in any form." said Harrison.
Carriage Accident Investigation Board spokesman Simon Pleasants said two investigators visited the area today and are expected to visit the crash site tomorrow morning.
The CAA said it would not comment further on the incident during its investigation.