Fears of Metricon collapse: Suppliers rally behind homebuilding company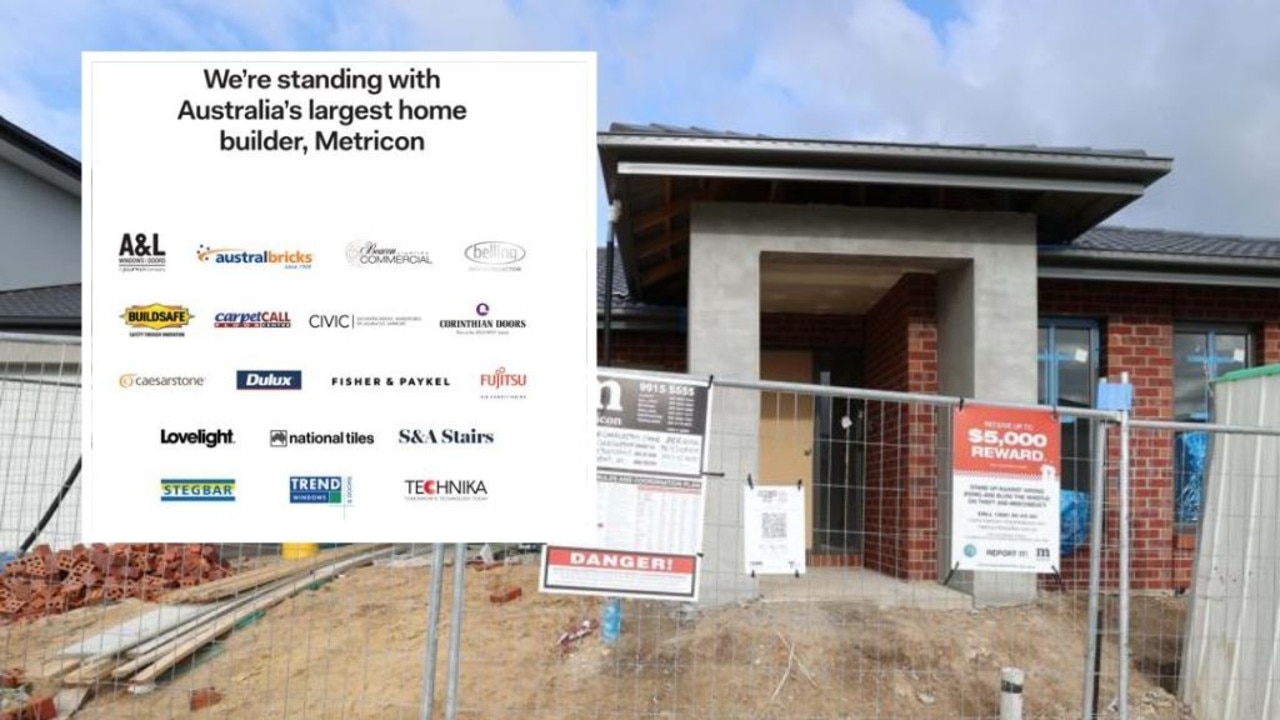 Suppliers and contractors are rallying behind Metricon as rumors continue to swirl about the struggling homebuilding giant.
Metricon suppliers have shown their incredible support for the homebuilding giant, amid fears the company is on the verge of collapse.
There has been speculation for days that Australia's biggest builder is at risk of bankruptcy amid claims of financial trouble and recent crisis talks with the Victorian government.
Staff are also mourning the sudden death of Metricon founder and CEO Mario Biasin, who died suddenly last week at the age of 71 after apparently experiencing mental health issues.
His death came just days before rumors about the company's future began to swirl.
But the company's suppliers and contractors are standing by Metricon, launching a national advertising campaign in a big show of support.
Deliver more live and on-demand business information with Flash. More than 25 news channels in one place. New to Flash? Try 1 month free. Offer ends October 31, 2022 >
"We're standing with Australia's largest homebuilder, Metricon," the ad reads.
"Australia's leading construction industry suppliers proudly support all of our builder partners."
The ad also included the logos of major brands such as Dulux, Fisher & Paykel, Fujitsu, Beacon Lighting Commercial and Civic Shower Screens and Wardrobes.
Stefan Styles, Managing Director of Civic Screens, said The Australian that Metricon had "never done anything wrong" and was always on time with payments.
"We don't think the company is in trouble," he said.
"The problem is that customers will get nervous and it will become a self-fulfilling prophecy."
An email sent Friday by contractors to a supplier called for continued support for Metricon, The Australian revealed.
"We are all key suppliers to Metricon, and at this time they need our help to change public opinion around their position. I am proud to be part of a supplier-led campaign for Metricon in Melbourne and I'm looking to roll it out nationwide," the email reads.
"This campaign includes print ads this weekend and will require a financial commitment."
Subbies United founder John Goddard said there was no evidence that any contractors had done unpaid work.
"I haven't heard of a single contractor that hasn't been paid on time by Metricon. Not one", the Bulletin of the Côte d'Or reported as much in a note to members.
"Another phenomenon of the times is the cancellation of people, in this case the cancellation of Australia's largest builder."
Acting CEO Peter Langfelder last week dismissed claims about the company, saying it was "business as usual" at a press conference at a construction site, although he admitted that the company was experiencing project delays.
"We have a solid track record, all our contracts in place are profitable, we are completely up to date with all our trades, our suppliers, our employees, our commissions, everything is completely up to date," he said.
"As far as our business is concerned, it's as if nothing had happened.
"Our business has been very strong for 45 years and will continue to [be] for a long time yet. »
Despite Mr Langfelder's claims, reports emerged that representatives of Metricon had met with the Victorian government for crisis talks over the growing problems plaguing the sector, including soaring costs of essential materials such as timber and lumber. 'steel.
It comes amid revelations that taxpayers may have to shell out more than $28 million to bail out families left with unfinished homes if Metricon goes bankrupt.
Senior government sources and former HIA chief economist Harley Dale said The Daily Telegraph they fear the NSW Homebuilders Compensation Fund could be overwhelmed with 350 homeowners who could make claims for unfinished work.
The fund covers individuals up to 20% of the cost of the contract. With the average construction in New South Wales costing around $400,000 and Metricon having 350 active construction sites across the state, it's estimated that ratepayers could be on the hook for up to $28 million just in New South Wales.
Each state and territory also runs similar programs, which could drive up the cost to taxpayers even more in the event of a collapse.